a møøse too far
jerakeen:
I hate web sites that just tail off irritatingly so you're never sure if they're dead
posted on 2007/12/21 13:01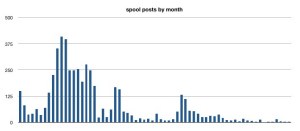 We're dead. Go away.
I do the odd thing on jerakeen.org, and blech has husk.org. The doesn't have an active web site (go him!) and hitherto has pissed off to America like ALL MY OTHER FRIENDS. Apart from the ones that haven't. Losers.
blech:
Amazon Music Store
posted on 2007/09/25 20:33
Just to point out the obvious: US ONLY YOU BASTARDS
I know this isn't really Amazon's fault, but still
US ONLY YOU BASTARDS
jerakeen:
I'm in the UK. Will I be able to use the store?
blech:
That would be a "no".
Nice URL, while we're at it: http://www.amazon.com/exec/obidos/tg/browse/-/163856011
We could not process your order because of geographical restrictions on the product which you were attempting to purchase. Please refer to the terms of use for this product to determine the geographical restrictions.
[ 0 days, 1 hour later ]
I wonder why Rui Carmo thinks the store works for him.
I also don't know why he's blaming Apple for inconsitent global pricing when it's so obviously to do with territorial rights at the label level.
jerakeen:
posted on 2007/09/17 16:41
Not that I like it either.
But seriously. It's early.
[ 0 days, 4 hours later ]
seriously, I don't believe that people are considering grinding playlists to increase sassiness. But then, the spool is obviously just more flumeriffic than your sorry excuse for a blog.
blech:
posted on 2007/09/12 10:02
Thing is, see, how many units did Palm ship, over a decade and a half (crumbs, that's scary)?
And now many iPods have Apple shipped?
Now, let's compare those numbers and ask, well, gee does the world even want an awesome PDA? Or does it just want a decent music player?
jerakeen:
gah, community. Repeat after me:
APPLE DOES NOT GIVE A SHIT ABOUT THE PDA MARKET
PDAs ARE USED BY VERY BORING PEOPLE
I own several, for instance.
blech:
I note you don't even claim to use them.
jerakeen:
Mostly I make them unusable within 6 months by installing 300 bits of useful-looking software, till they're too slow to use.
Having said that, I've been trying to get a scratchbox to write N800 software set up on my mac for a few days now.
It's making my brane hurt. I mean, seriously, developing for the iPhone, a closed platform that you can't install apps on, and so needs hacking into, looks easier than this.
blech:
Funny you should mention the N800.
We want so badly for the iPod touch to be a Nokia N800.
jerakeen:
I love my N800. But it's a shit music player.
Oh, and every time I plug the USB into my Mac, it hangs the finder so hard I have to bounce the machine, and corrupts the SD card. Which is sub-optimal.
jerakeen:
posted on 2007/09/10 19:34
Also, it won't make tea. Damnit.
blech:
That's not so much crippled as fairly lame, if you ask me.
Not the tea bit. Making tea is a vital part of every day.
blech:
UK iPod pricing
posted on 2007/09/05 20:18
because nobody mentions it at the events and I'm sad enough to go around the UK store doing sums
The main iPod that anyone wants (I assume) is the touch; the 8GB version is £199 and the 16GB is £269
Looking at the ex-VAT prices that's a 20% or so markup on the pre-sales-tax dollar price, which is fairly high, but about in line with other electronics, from what I recall.
The fat Nano starts at £99 (for the 4GB model; the 8GB is £129) and the shuffle's down to £49 (actually, that may have happened already, but it seems cheap).
The classic models come in at £159 for 80GB and £229 for 160GB.
I'd love to mention iPhone pricing, but there's still no announcment on European carriers, despite the gathering of European journalists in the BBC for a keynote simulcast thing.
Sigh.
jerakeen:
posted on 2007/08/13 14:39
blech:
I'm sure iPlayer's usage will soon dwarf the amount of data being shipped over Bittorrent, oh yes.
blech coughs quite a lot.
[ 0 days, 3 hours later ]
jerakeen:
Pay up if you jam the web, BBC warned — Internet bosses could demand a 'congestion charge' from the BBC to help pay for the corporation's ambitious scheme to offer thousands of hours of programmes online
'Internet bosses'?
blech:
You get them at the end of the level.
They try to stop you progressing by hurling malformed RSS feeds at you.
jerakeen:
BT refused to comment, but an industry source said: 'It would be nonsense to think that networks can be run for free, so why should any organisation expect a free ride on the network?'
BECAUSE I PAY FOR IT
The:
In very BBC terms: other Kontiki based DRM'd Windows Media download solutions are available
How come they are never bitched about, given that one of them is run by a public service broadcaster
jerakeen:
You're going off message. Shout more.
jerakeen:
posted on 2007/08/11 11:05
It seems to me that you can never really have competition in a DRM-laden world.
a rational consumer will never choose a smaller offered service, because they're more likely to give up and destroy all your purchases.
Seems to be very much a natural monopoly-type situation.
DISCLAIMER
We hate you all. Yes, especially you. Sod off and DIE